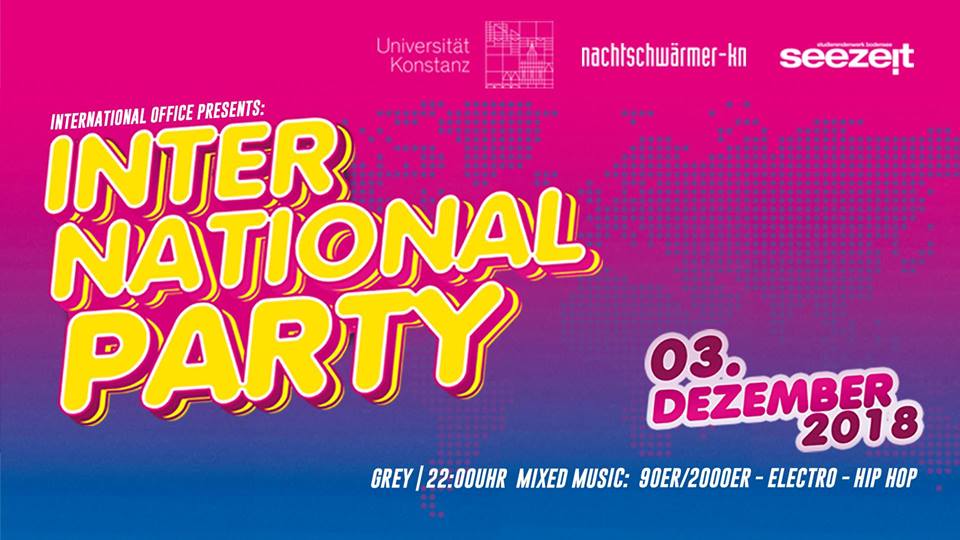 International Party | präs. von Int. Office Uni KN

| | |
| --- | --- |
| | 3. Dezember 2018 |
| | Konstanz |
| | Grey |
SAVE THE DATE!
GET THE INTERNATIONAL FEELING PARTY!
Unter diesem Motto findet die International Party der Uni Konstanz statt.
Menschen rund um den Globus feiern mit allen Konstanzern.
Es gibt nicht nur mixed music sondern die besten Hits, die uns die Studis aus nah uns fern nach Konstanz mitgebracht haben.
Ticket-Vorverkauf: 3,-€, am 27. & 29.11. + 03.12. jeweils von 10 bis 14Uhr
Abendkasse: 5,-€
DJ´s: Beatnostic
Getränkespezial: Bier und Sekt die ganze Nacht 2,50€
Beginn: 22Uhr
Ende: 4:00Uhr